The right edge can do more than just keep your countertops safe. It can also grant a subtle infusion of personality to your kitchen or bathroom. When you choose something different than the norm, you add character to your countertops and make the room your own. Finding the right quartz countertop edge for your renovation is one of the most enjoyable parts of the process.
We offer a wide selection of stone countertop edges at our Boston-area installation and fabrication showroom. Many of our customers update their laminate countertops with quartz — this option allows you to choose what type of edge you want.
You can find a range of possibilities, including:
Eased or pencil edges
Bullnose or half bullnose edges
Ogee or waterfall edges
Dupont or cove edges
Two of our most popular options are quartz countertops with a waterfall or mitered edge, which you can view for yourself in our Woburn showroom!
Quartz Countertops With a Waterfall Edge
The full waterfall edge drops vertically down the countertop sides, creating a continuous flow all the way to the floor. They are the most spectacular type of edge, especially when choosing a veining quartz material, as the veining matches the countertop's horizontal surface as well as the countertop's vertical surface.
Another type of waterfall edge is only at the countertop edge, stepping down gradually a few inches to give the impression of cascading water. This waterfall edge has a gentle three-section slope, which we also refer to as a "triple waterfall." A triple waterfall edge makes a beautiful, tapering endpoint for a quartz countertop in a kitchen or bathroom.
Quartz Countertops With a Mitered Edge
Mitered edges are an elegant choice for your kitchen or bathroom countertop edges. The mitered look has a more substantial, thicker appearance than many of our other options. It joins the edges of two pieces to make a precise corner, extending up to 2 1/2 inches. Our ability to match all countertop veining gives this edge a seamless appearance, looking as though the quartz was made for this space.
Other Types of Quartz Countertop Edges
At Pablo Marble & Granite, you'll find something that appeals to you among our large selection of countertop edges. Many of them offer customization options, so you can decide how big or small you would like the rounding on an edge to be. Here's a look at some of the other quartz countertop edges to choose from:
Chiseled or "rocked": This looks rough and rugged, as though you split the quartz yourself to end the edge — but in reality, it's been finely chiseled to appear that way.
Dupont: A sophisticated appearance that has two small steps — a square one that flows into more of a waterfall look, with one long decline.
Ogee or ogee roundover: The ogee look seems as though someone took a small scoop out of a square edge, with the roundover ending the edge with a more circular shape.
Cove: Like the ogee, this looks as though a scoop has been removed from a square edge — but instead of a rounded finish, it has a square one.
Stair tread: This looks as though the edge goes out and then gently rounds back in, finishing slightly behind the top.
Get in Touch Today to Discuss Your Quartz Countertop Edge Options
We want to assist you with your new countertops. Call us at 781-696-2990 or contact us online to receive more specific information about our countertop edges, or to ask any questions. You can also book an appointment online!
---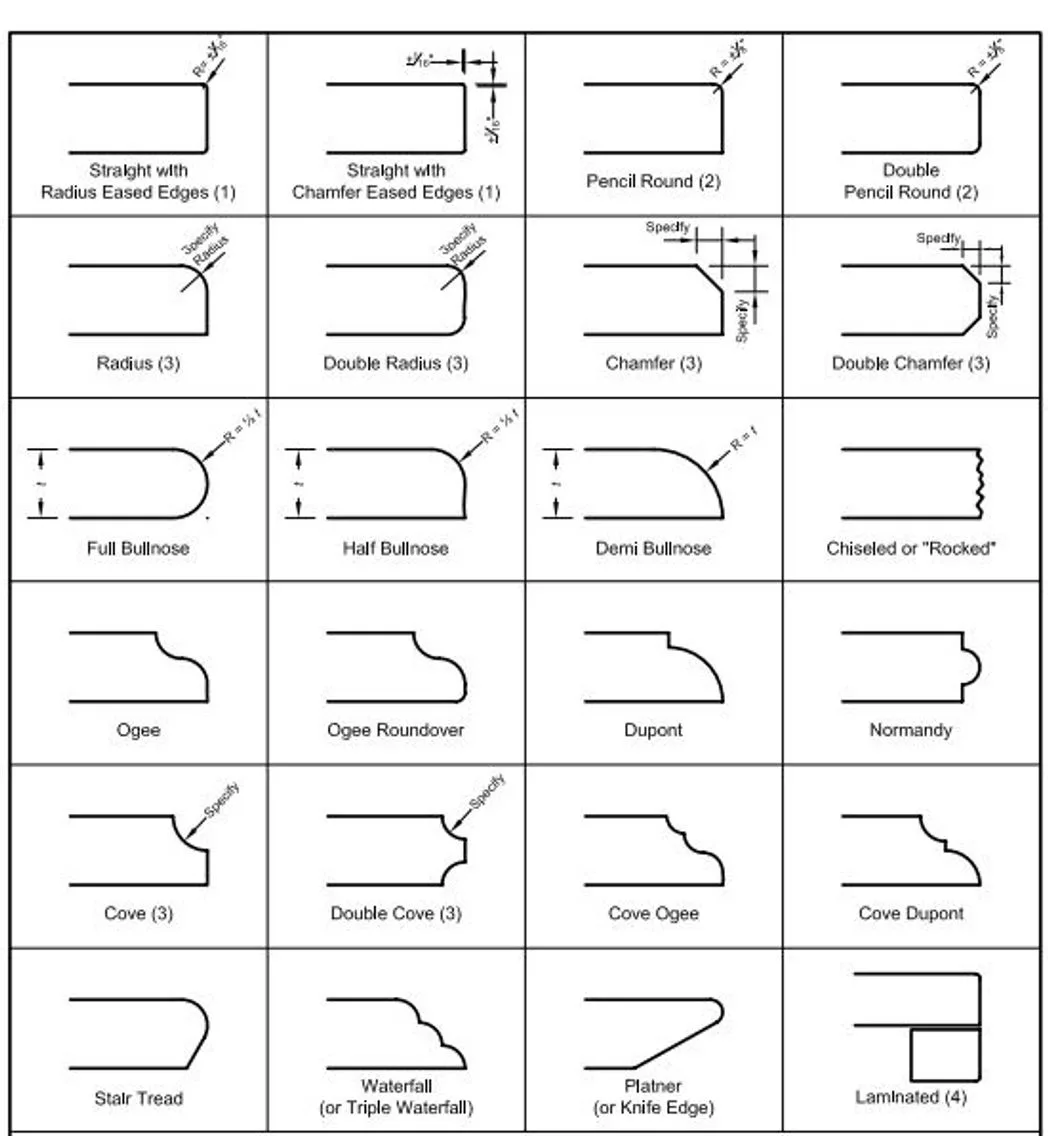 Pick from one of the edge profiles above to complement your granite, quartz or marble countertop or vanity!