Why Install Stone Countertops?
Countertops are arguably the most essential feature of a kitchen. Their value comes not just from the aesthetic role they play, but also from their functionality. After all, they're where we prepare food, eat casual meals and, for many of us, regularly work and socialize. When deciding on a material for this frequently used surface, it should be as attractive and durable as possible — and nothing fits this description better than natural stone.
In this guide, we will discuss the benefits stone countertops provide, share tips on how to go about selecting the right one for your kitchen and explain the differences between various popular stone materials.
Why Are Stone Countertops Popular?
Some people are so enamored with the striking beauty of stone countertops that they need no other reasons to buy them. However, in addition to their appearance, they also provide some amazing benefits!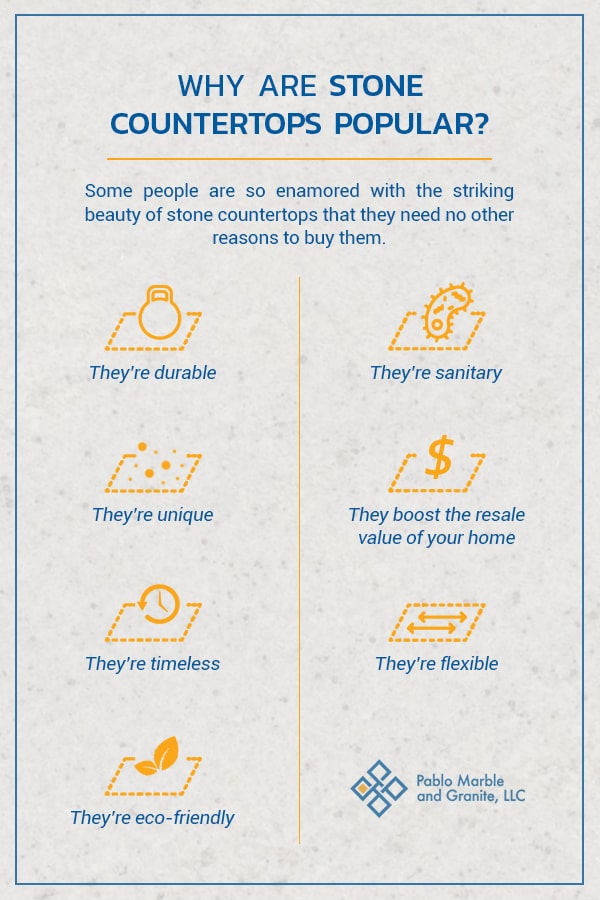 They're durable: Stones like granite are among the hardest found in nature and are remarkably resistant to scratches and high temperatures, which isn't necessarily the case for other common countertop materials like laminate, solid surface and butcher block. This low-maintenance material is also excellent at withstanding spills and other accidents that are part of day-to-day living. Coffee and wine leave no stains, and slicing knives rarely do any damage.
They're sanitary: Stone is also extraordinarily bacteria-resistant and is suitable for food preparation. Homeowners who desire an even cleaner surface can choose to seal it. If you wish to disinfect the surface of your stone countertop, you must not use combine products that claim to disinfect because they often leave behind streaks and can potentially harm the stone.
They're unique: No two slabs of stone are identical, which means you can use these materials to achieve a one-of-a-kind look in your kitchen. If you desire a specific color or pattern that suits the character of your space, a countertop fabricator should be able to help you out.
They boost the resale value of your home: Of all available countertop materials, stone is the most luxurious and will boost your home's value like none other. Homebuyers will sometimes make their decision to buy based solely on the stone countertops in the home, as many recognize its other benefits, including its durability and minimal maintenance.
They're timeless: Stone has always been fashionable and always will be.
They're flexible: Every stone slab gets cut specifically for your counter, which means your countertop fabricator can incorporate it into any style you'd like. Regardless of whether you'd like a round vanity in your bedroom or a T-shaped island in your kitchen, your stone fabricator can cut your slab to order. With stone, any design you dream up can become a reality.
They're eco-friendly: Lower cost and ease of installation often tempt buyers to choose countertops made of other materials, but these materials are often harmful to the environment, as they may contain plastics and chemicals that contribute to greenhouse gases. Other materials also tend to be considerably less durable than stone and are not easy to recycle once they've come to the end of their useable life. Stone, on the other hand, has no human-made properties, making it a truly eco-friendly material.
Things to Consider When Replacing Kitchen Countertops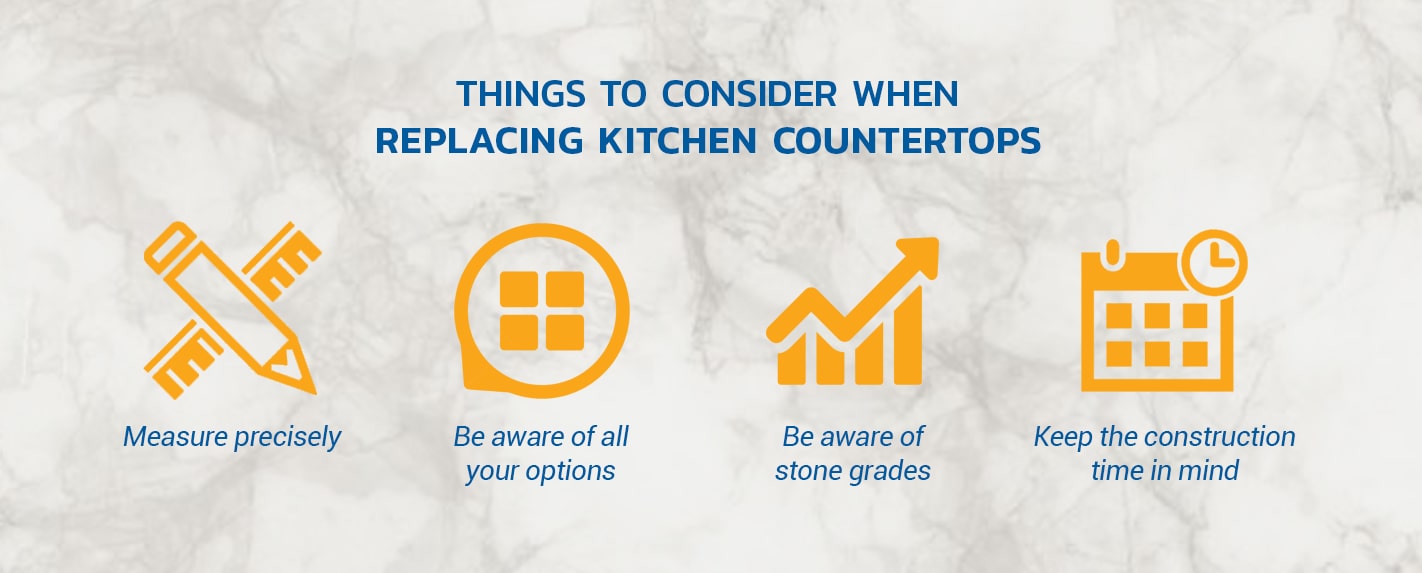 Kitchen countertop replacement — like any home improvement project — requires you to do some homework. Here are a few things you must do or be aware of before having that beautiful, new slab of stone installed in your kitchen:
Measure precisely: Before heading off to the store, make a sketch of your kitchen that shows the exact placement of your countertop. You should mark off sections of continuous countertops, island countertops and sink countertops to measure separately. If this sounds too complicated, you can opt to hire a design professional or your countertop fabricator to come and make the measurements for you.
Be aware of all your options: When it comes to stone countertops, you have several options, including quartz, granite, marble and quartzite. Each material has a different price tag. Granite countertops tend to be the most affordable of the four and, though not as elegant as quartz or marble, are highly attractive. If you want to save money, granite countertops are the best option, and if you're going for the most refined look possible, quartz countertops are the choice for you.
Be aware of stone grades: Natural stone countertops are available in a variety of grades and are usually rated on a scale ranging from one to five, based on the number of defects in the stone. For example, a stone with a grade five is technically flawless but will be much more expensive than stones of lower grades, which contain certain defects. However, these defects are usually not noticeable, and you will get a better return on investment by picking a stone that is a grade three or two.
Keep the construction time in mind: Many people consider kitchens to be the most vital area of a home, and they tend to see a wide variety of uses, including cooking, eating, entertaining guests and hosting parties. For this reason, you need to consider the construction time when planning a countertop replacement. The majority of small and medium projects should only take a day if a professional does the work, whereas larger kitchens may take several days.
Types of Stone Countertops and Their Benefits
Below we will cover four of the most popular stone countertop materials: marble, granite, quartz and quartzite.

1. Marble
Marble is a gorgeous stone that features unique veining and is sure to boost the value of your home. No two slabs of this timeless stone are identical, meaning every marble countertop is unique.
This popular material is widely available and, unlike quartzite and some quartzes, you can find it at practically any stone yard or stone fabricator. However, marble also tends to be quite expensive, and for this reason, you probably will not want to use it for all counters in a kitchen. It is more common to use it for just one section, such as an island. There is less expensive marble on the market such as the readily available Carrara marble.
Marble is waterproof and heatproof and has naturally cool temperatures, making it ideal for working with pastries. On the downside, marble is also prone to scratches and stains, which may make this highly prized stone a less-than-ideal option for some homeowners. While new sealers can offer protection and reduce the required upkeep, it still does not have the resistance to staining and scratching that granite does.
2. Granite
Granite is the traditional favorite material for kitchen countertops, and homeowners highly prize it for its attractiveness, long lifespan, durability and multitude of patterns and colors.
Granite has a complex, rich appearance no human-made material can duplicate. Many consider it to be the most beautiful natural stone for countertops.
A granite countertop can withstand direct contact with hot pans, resists stains and is almost impossible to scratch. Most granite colors, however, will need annual sealing to protect against deep stains, although certain varieties do not require it.
After you get the granite countertop sealed, it requires very little maintenance and is exceptionally difficult to damage, as long as you follow a few simple rules — blotting up spills immediately, cleaning up messes using a soft cloth or sponge and using coasters for glasses and trivets.
3. Quartz
Although some may assume it's natural, the countertop material called quartz is engineered and contains up to 93 percent quartz particles and other minerals. Manufacturers form the mixture into slabs and bind it using resins.
The technology used to manufacture quartz is not the same as that used to produce glass countertops, which consist of recycled glass particles mixed with resins and made into countertop slabs.
Quartz was developed to provide a better-performing and more adaptable alternative to marble and granite. It can be custom-made to any shape and size, it features a nonporous surface that is stain- and scratch-resistant and it comes in a wide array of colors. It's also impervious to acid and heat and is antimicrobial, making it an excellent choice for families with young children.
Quartz slabs are uniform and contain no imperfections, and some types convincingly imitate natural marble and contain similar veining. Quartz, unlike natural stone materials, does not need the upkeep of periodic sealing.
4. Quartzite
Quartzite has gained popularity as a countertop material in recent years due to its low maintenance, strength and sophisticated appearance. Quartzite is a natural stone and, despite the similar-sounding name, is not the same as quartz, which is a human-made material. Like granite, quartzite is durable and resists heat and scratches. It is also resistant to staining, although in most cases, you will still want to get it sealed.
Perhaps the biggest draw of quartzite countertops is the many alluring patterns and colors they offer, which are similar to marble. For homeowners who desire a similar appearance to marble but don't have the patience for the upkeep, quartzite is an excellent material to consider. Quartzite is also significantly firmer than marble, ranking at seven on the Mohs Hardness Scale. It is also highly UV-resistant and is not likely to fade, making it ideal for outdoor applications or indoor spaces exposed to direct sunlight.
Quartzite typically comes in polished, honed and leathered finishes, making it an excellent choice for both rustic kitchens and contemporary luxury spaces. This material has a way of transforming countertops, tables and work surfaces into elegant showpieces.
This metamorphic rock begins as sandstone and turns gradually into quartzite over many years of exposure to high pressure and heat. However, when used for countertops, it gets fused with polymers, pigments and resins, making it an engineered, human-made material.
Choose Pablo Marble & Granite for Your Custom Countertops in Woburn
If you live in the greater Boston area and would like to enhance the beauty and functionality of your space with a stone countertop, look no further than Pablo Marble & Granite.
At Pablo Marble & Granite, we fabricate and install quartz, granite, marble and quartzite, and our specialty lies in quartz countertops. We purchase our slabs directly from suppliers and then handle the cutting, fabrication, polishing and installation ourselves. By doing this, we can provide our customers with a wide variety of materials at affordable prices.
In addition to countertops, we also install backsplashes for customers in Burlington and Lexington. Regardless of whether you prefer mosaic backsplashes, subway tile backsplashes or some other style, these beautiful features are also highly practical because they're easy to clean. Glass or ceramic tile backsplashes also make it easy for homeowners to bring various design elements in your kitchen together, such as your flooring, cabinetry and counters, to achieve a sophisticated look. A newer and popular style is a full-height backsplash in the same material as the stone countertops.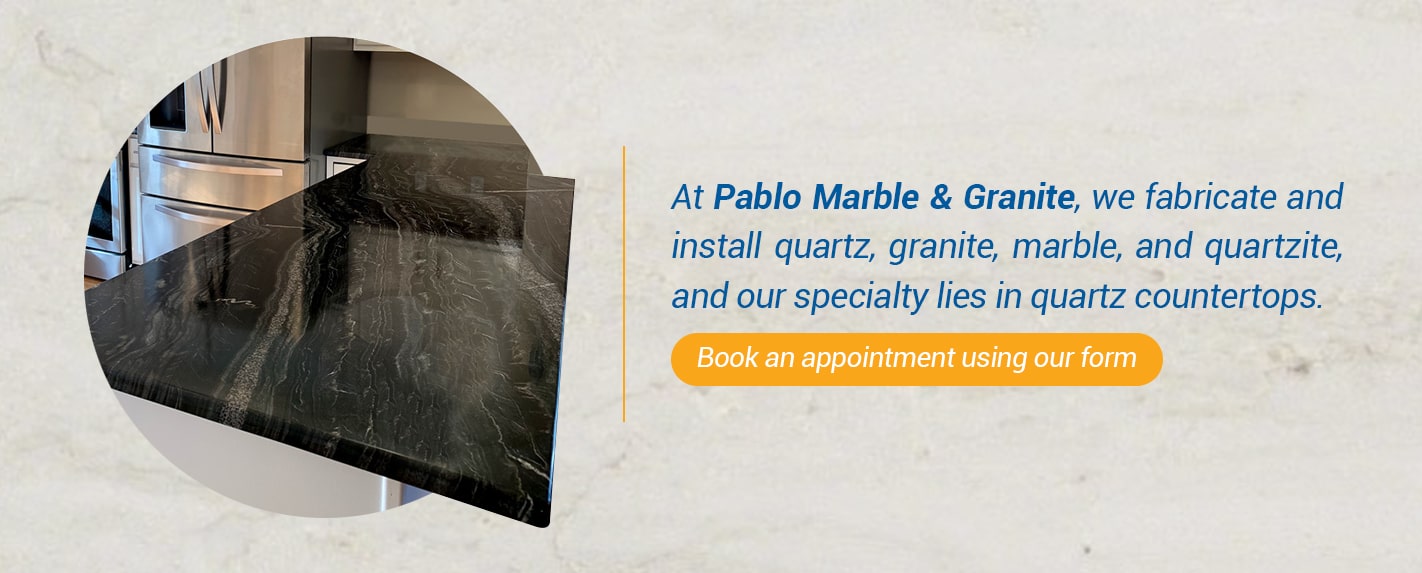 Our family-owned business has been proudly serving homeowners with kitchen renovations in the Woburn area for the past few years. Although our company is relatively young, all our installers and fabricators have more than 10 years of experience in their trades. In addition to providing our customers with high-quality designs, templating, fabrications and installations, we also aim to provide the best customer service possible. When you request estimates or additional information, we will gladly schedule a time to bring over catalogs and countertop sample materials so you can see what different countertop styles and colors will look like in your kitchen. We'll then provide you with an installation estimate, completely free of charge!
To ensure our customers' complete satisfaction, we make a full-sized model of the countertops you order and fit them to your counters before cutting, fabricating or polishing the stone. By doing this, we can ensure our measurements are all completely accurate. Then, we'll bring your countertops to your house or business to perform the installation.
Visit us today at our new 5,000-square foot state-of-the-art facility, displaying over 70 full slabs of quartz and granite — all indoors! You'll find us at 10 Breed Avenue, Woburn, MA 01801.
For further information, you can call 781-696-2990, email us at ben@pablomarbleandgranite.com or book an appointment using our form. Build your dream kitchen or bathroom with our help today!