Whether you want to add value to your home, or simply want to enjoy a refresh, the kitchen is the perfect place to start. The kitchen is the heart of the home — it's where much of life really happens, so it makes sense to focus your remodeling efforts here. If you're interested in remodeling your kitchen, don't just rely on what you've seen in your friends' kitchens. Aim to be fashion-forward so your kitchen will look stunning this year and in years to come.
Overarching Themes
Before we talk about individual elements that make up a kitchen, let's take a moment to get a feel for the overarching themes that define a modern kitchen in 2019. These trends are about form as well as function. The Washington Post aptly summed up the 2019 kitchen trends in their subtitle, "Put away the clutter. Pull out the color." If you want a kitchen you love to cook and eat in that's fit for a design magazine, here are the main kitchen renovation design trends to be aware of as you plan your remodel.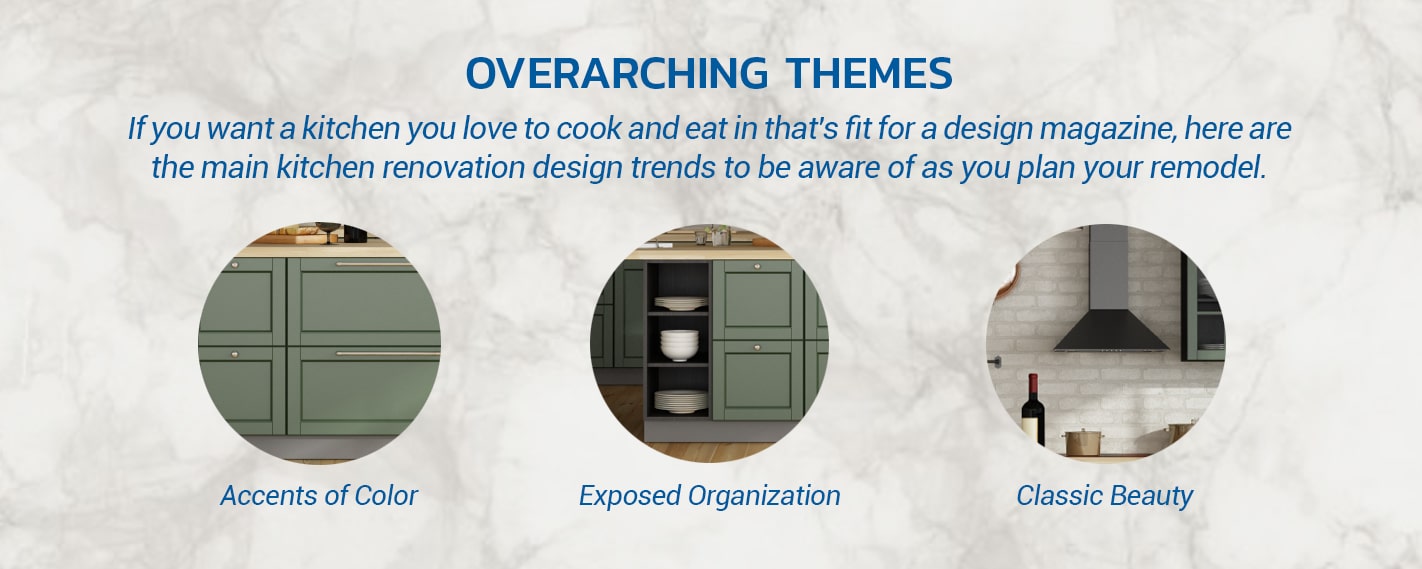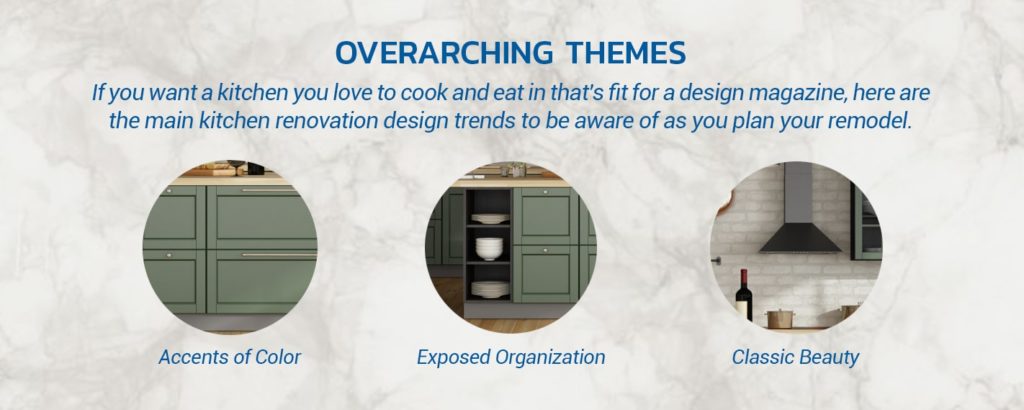 1. Accents of Color
Neutrals aren't going out of style any time soon, but on-trend kitchens include bursts of color to add visual interest. Trendy colors are typically dark, rich colors like forest green or deep blue, or pastels like mint. However, your kitchen should feature colors you love to reflect your personality. You can feature a color throughout your kitchen with your cabinetry or create a focal point with your kitchen island. Alternatively, you can keep it neutral through the larger elements of your kitchen and include smaller color accents such as a bowl of lemons or potted plants.
2. Exposed Organization
When it comes to organization, kitchen trends are following a bigger cultural movement towards minimalism and hyper-organization. This means you'll see more open shelving in 2019 in place of upper cabinets. Another popular way to make your organization more transparent is to have glass doors on your upper cabinets. In either case, you'll be more conscious of the way you stack and store items, but you'll also get to show off some of your dishes to guests. Floating shelves can also make items more easily accessible.
3. Classic Beauty
Modern kitchens that fully embrace today's trends shouldn't look cold or space-age. Instead, the modern kitchen should feel warm and inviting. It should celebrate the raw, natural beauty of classic materials like wood and marble. Modern kitchens often feature rustic or antique elements that blend the sleek appearance of modern appliances and the aged appearance of reclaimed wood or patinaed copper to make a kitchen that has a rustic warmth and a modern edge, beautifully blended into one exquisite kitchen.
Cabinetry Trends
When many people look to renovate their kitchen, cabinets are often one of the first areas to tackle. New cabinets can set the tone for your whole kitchen reno. There are four main kitchen cabinet trends to consider during your remodel.
1. Dark Colors
The white cabinet craze is dying down, and dark-colored cabinetry is taking its place as the new star. A dusty or muted black has become the new "it" color if you want a moodier tone, though other dark colors, especially blues and greens, are also trendy choices. Blue cabinets, in particular, will remain a popular color well into the future.
2. Matte Finish
Say goodbye to a sleek, glossy finish on cabinets and say hello to an understated, matte finish. If you enjoy high shine, you should bring this sparkle to your countertops. Having matte cabinets and shiny countertops is the perfect way to embrace another popular trend — mixing textures. Whatever textures you choose to incorporate, if you want to stay on-trend, opt for a matte finish on your cabinets.
3. Two-Tone Variety
Whereas it's been standard for a long time to have all your cabinets match, a new trend is emerging — you are no longer limited to one color choice on your cabinets. Instead, you can choose one color for your uppers and a different color for your lowers. For example, you could have matte black lower cabinets and natural wood uppers. Or, if your kitchen island includes storage, you can feature a different color here for a convenient, stand-out pop of color.
4. Open Shelving
Another major trend we've already been seeing and expect to continue to see is a switch from traditional upper cabinets to open shelving. This shelving tends to be simplistic rather than ornate, so the emphasis is on what you choose to place on the shelving. You can combine practical dishes you use every day with carefully curated items that make your kitchen unique.
Lighting Trends
Especially with darker color schemes becoming more popular, lighting is an important way to brighten up the kitchen. There are lots of lighting options to choose from, so you ultimately want to choose options that complement your kitchen design the best. However, there are some kitchen design trends related to lighting you may want to consider.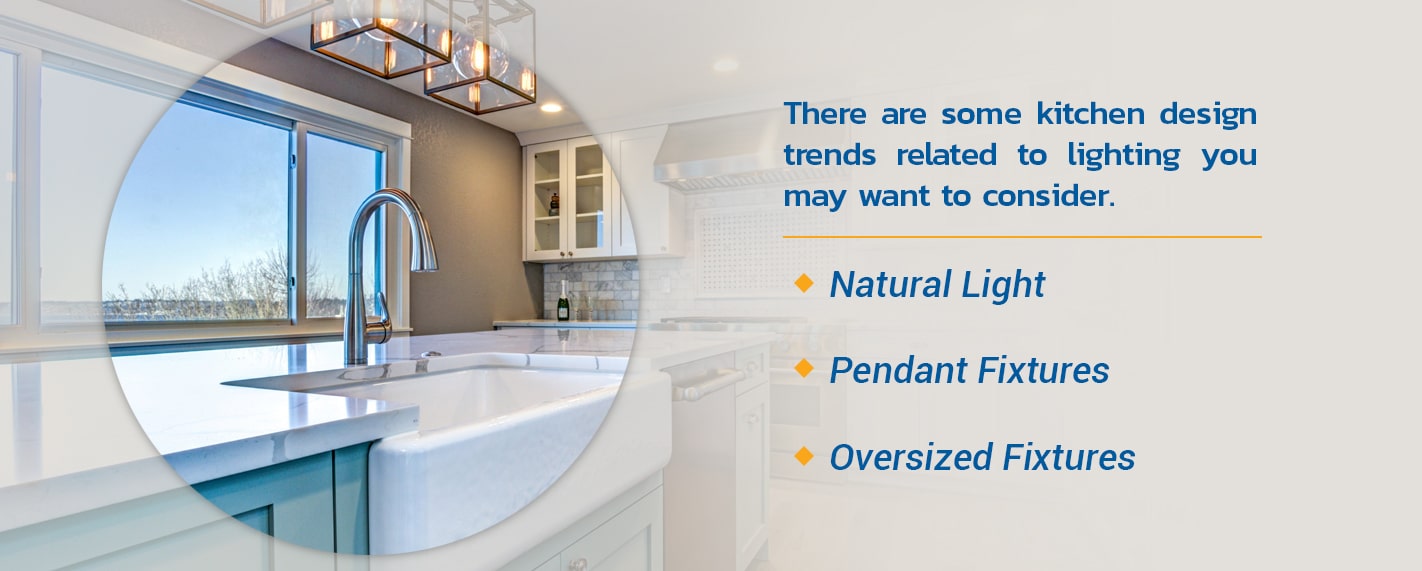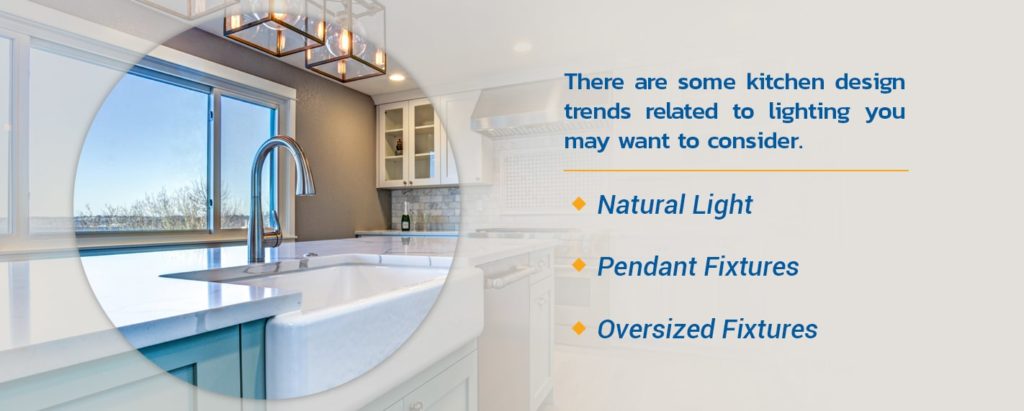 1. Natural Light
Natural light isn't a brand new trend, but it remains a popular point of emphasis. If you want your kitchen to feel light-filled, the best way to do that is with natural light. That means letting light in through windows or even a skylight. It also means letting light fill the space more. Open shelving or transparent cabinetry will help natural light fill more of the space, though you may want to include some recessed lighting inside your cabinets or above your shelving, as well.
2. Pendant Fixtures
Pendant light fixtures are en vogue in a major way. Pendant lights come in a variety of styles, so you can find a fixture to match your kitchen's overall style, whether it be old world, retro or ultramodern. Hanging pendant lights helps light up your kitchen and creates much-needed definition in an open floor plan. As more kitchens are opening up to a dining or living area, the right lighting can help you set the kitchen apart. Typically, you'll see pendant lighting over the kitchen island.
3. Oversized Fixtures
You shouldn't be afraid to make a bold statement with your lighting because oversized fixtures are a growing trend. So, when you're picking out those fabulous pendant light fixtures, you may want to go bigger and choose some pendants that really stand out. If you opt for an oversized lighting fixture to serve as a focal point in your kitchen, use more understated fixtures for the rest of the room, such as recessed lighting.
Kitchen Island Trends
Your kitchen island tends to be an especially popular place in the kitchen. It's typically a prep space and eating space, all-in-one. So, how can you continue to enjoy the function of a kitchen island and embrace the aesthetic that's popular in 2019? Here are the trends to pay attention to.
1. Contrasting Color
As we talked about with the two-tone cabinetry trend, contrasting color is a feature of the modern kitchen. This means, instead of matching your kitchen island to your cabinets, you can have some fun! A matching island will never look out of place, but if you want to incorporate another color into your kitchen, don't be afraid to do it here. It could be that you want a splash of bold color, or you could have a white island for a touch of lightness amidst dark cabinetry.
2. Waterfall Edges
A waterfall edge means that the countertop material on top of your island doesn't stop at the edges but instead wraps around the corner and continues down the sides of the island. This design choice can make even an older island appear sleek and modern. The extension of the countertop to the floor creates a more fluid look, and it has some functional advantages — it can conceal appliances and protect your cabinetry.
3. Larger Sizes
Islands have been around for a long time, but they have gotten bigger in recent years, and this trend is continuing in 2019 and likely beyond. In smaller kitchens, an island may be the size of a modest kitchen cart, but if you have the space for it, consider a kitchen island installation that is oversized and includes a prep sink and plenty of work surface. Larger islands also offer more seating, which is a great feature if you have a big family or like to entertain friends right out of your kitchen.
4. Barstool Seating
Speaking of sitting at your island, barstool seating is another kitchen island design choice that's big in 2019. Seating isn't just functional — it also provides another opportunity to show off your style. If you're going for a more industrial look, opt for metal barstools to match, possibly with wooden or leather seats. If you're going for a high-end, luxurious look, consider upholstered seating. Since you can easily change out seating at any time, don't be afraid to try something bolder here if you're nervous about incorporating color into your kitchen in other ways.
Countertop Trends
This is likely the moment many people are waiting for. What are the countertop trends for 2019? Countertops are a defining feature in any kitchen so choosing your countertops is a big step in any kitchen renovation. Great countertops should be both beautiful and functional, so here are the trends we've seen so far for 2019!
1. Glittering Quartz
If we had to name the biggest star in countertop materials for 2019, it would be quartz. When you install quartz countertops, you take advantage of their unmatched combination of classic beauty and practical functionality. In fact, quartz recently surpassed natural stone in popularity for kitchen remodels. In addition to mimicking the beauty of marble or granite, quartz offers some fantastic advantages of durability and less susceptible to staining. Quartz also has the advantage of being antimicrobial without ever needing to be resealed.
2. Dark Stone
Since darker colors are trending in the kitchen, you may want to incorporate these dark colors via your countertops. This is an especially great option if you love white or light-colored cabinetry and want to add some dark color to your kitchen for mood and contrast. Some examples of stunning natural stone countertops that come in various shades and patterns of black are Agatha black granite, sparkling black quartz, platinum black quartzite and fantasy black marble.
3. Natural Veining
Across materials, natural veining patterns are a sought-after look this year. Engineered stone can offer this look, as well as natural materials like marble. If you choose to extend your countertop material up to the wall in your kitchen, make sure you hire a company who will take care to cut and install your material so that the veining pattern continues seamlessly.
4. Waterfall Edges
Waterfall edges don't only belong on the kitchen island! You can also extend your countertop material all the way down the side of your cabinets, as long as the side of the cabinets is exposed rather than running into a wall. Waterfall edges bring more drama into your kitchen design and create a more cohesive look, all while protecting your cabinets with the durability of marble, granite, quartz or whatever material you choose.
Backsplash Trends
Backsplashes protect your wall from messes and can add visual appeal to any kitchen. In 2019, there are three main backsplash trends you'll see in new and remodeled kitchens.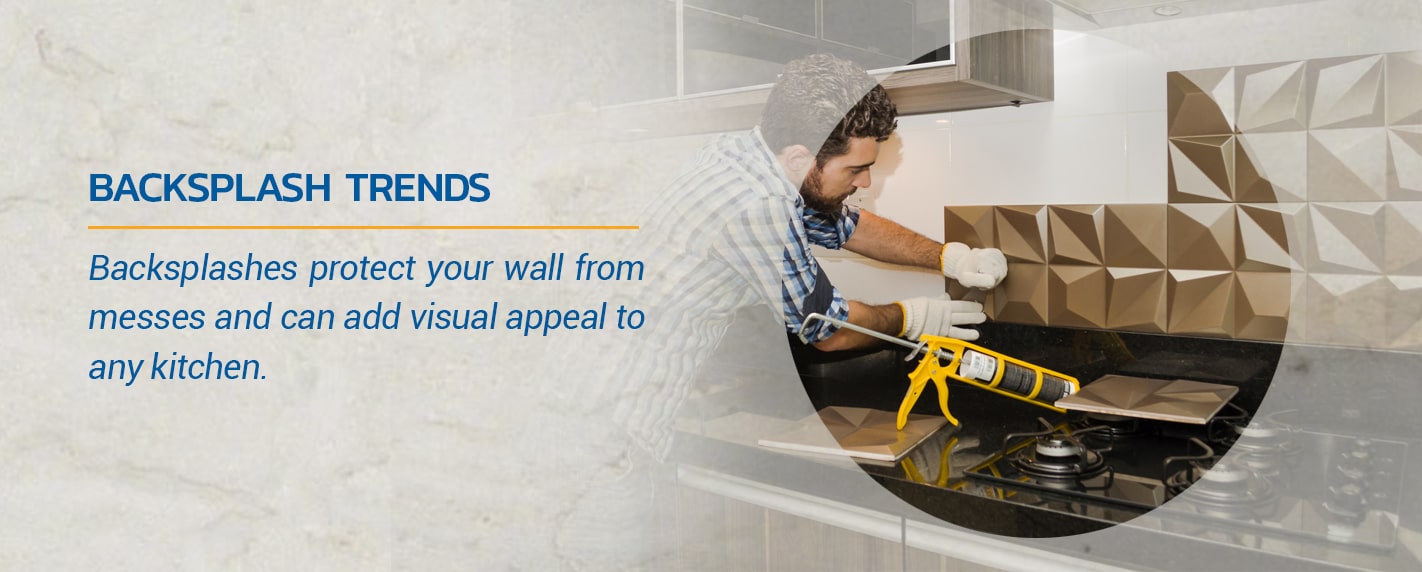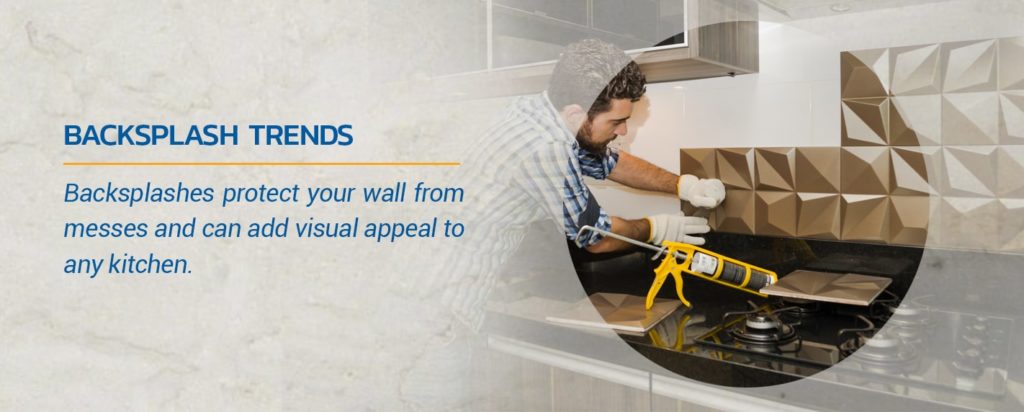 1. Tall Backsplashes
Traditionally, backsplashes have only extended partway up the wall at the back of your counter. That's no longer the case, though, for on-trend kitchens. Backsplashes are now continuing all the way up to the bottoms of cabinets or, in cases where there are no upper cabinets, up the entire wall. Taller backsplashes create more flow and can serve as a dramatic focal point, in some cases.
2. Ornate Tile
If you want your backsplash to serve as a design accent rather than an understated part of your kitchen design, opt for ornate tile, an option that's growing in popularity this year. Don't shy away from bold colors and intricate designs, as these are popular options right now. If you don't like ceramic tiles, but you want to feature a design accent, try stone or embossed metal.
3. Counter Extension
Another major trend with backsplashes right now is to extend your counter material up the wall. You now have one material serving as both your countertop and your backsplash, which creates a fluid, cohesive look. Especially if you're at a loss for what material to choose for a backsplash, you can't go wrong if you simply stick with your countertop material! As we mentioned earlier, just make sure any veining patterns on your countertops match up with the backsplash so the material seems to glide up the wall effortlessly without any noticeable seams.
Let Pablo Marble & Granite Help Transform Your Kitchen
For kitchen countertops and backsplashes that transform your kitchen into a contemporary or classical masterpiece, partner with the experts at Pablo Marble & Granite. We offer a range of options for materials and configurations and will never consider a job finished until you're completely satisfied. That's our guarantee.
Don't settle for anything but the best when it comes to your countertops since they set the tone for your whole kitchen design. If you're considering a kitchen remodel in Woburn, MA or within Boston, contact us today to learn more about how we can help make your dream kitchen a reality.